Return Shipping Instructions

We like to think that our gems are so beautiful that once you (or anyone else) gets them in their hands they would never want to return them! However, we understand that sometimes it will be necessary. So if you decide to return a gem or gems here are some instructions on how to do so.
RETURN POLICY
We want you to be happy, so we give you a full 14 days from the day they arrive to examine and return gems!
If the gem or gems are returned in original condition we will refund their full purchase price minus shipping charges.
(Tip: This is a good way to compare multiple gems, just return the ones you don't want!)
Please include with the gem your name, telephone number, email and address so we know who sent it back. If you can send a copy of the original invoice that will help too. (It might be a good idea to keep a copy for yourself though, especially if you kept one or more of the gems that are listed on it.)

The most important thing is the packaging. Gems should be individually stored in small baggies or small gem boxes (never more than one gem to a box or bag!) and if stored in small baggies should ideally be double bagged for greater protection.
Packaging the gem securely is actually more important than what shipping method you use. In over 20 years of business we have never had a properly packaged gem lost, stolen or damaged. (Thank God for that!) We have had an improperly packaged gem damaged though, and poor packaging also increases the risk of theft.
I will show how to package the gem using US Mail free packaging since that is one of the easiest shipping options for most people, but these same packaging concepts apply to shipping using UPS or Federal Express. Much of this advice is taken from our shipping insurance provider and gleaned from their experience in shipping millions of packages for hundreds of different companies.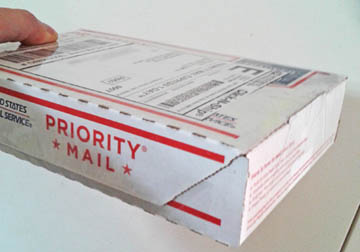 The gem should not rattle around and the gem's package should also not be loose and shake in the box. This makes multiple gems less likely to bump into each other and be damaged. Also when your box doesn't make noise it is much less interesting to thieves!
We find Priority Mail Small Flat Rate boxes (see image) very useful. It doesn't matter how much the box weighs and it is fairly easy to make a shipping label online. These boxes are available for free at the post office. Since there are so many of them being shipped every day they don't attract much attention and they also are a good size and inexpensive to ship.
First put the gem enclosed in its baggie or box and your information into a separate envelope. Flat Rate Priority Mail Envelopes or Padded Envelopes (also free!) work great for this.
Our shipping address is:
John Dyer (it is better to use only my name and no business name)
5021 Vernon Ave. S.
PMB 123
Edina, MN 55436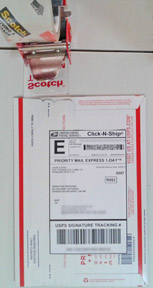 Tel: 1-715-830-0126
NEVER put the word "Gem", "Gemstone", "Jewelry" or an
y other related term on the outside of the box!
This lets everyone know what is in the box and makes it far more interesting to thieves!
Put the address on the outside of the inner envelope. (If you are printing an address label for the shipment print at least two for this reason!) Seal the envelope with clear tape and cover the address label with clear tape too. If handwriting the shipping address then hand write it on this inner envelope and tape over it. The tape keeps water from damaging this label and seals the envelope. With an inner envelope if the outer box is somehow damaged and opened there will still be a sealed inner envelope complete with address that can keep on going to its final destination. Also this double layer of protection makes it FAR harder to extract the gem or gems by puncturing the outer box.
For those shipping Fedex or UPS,
since their boxes are larger the envelope will need to be taped inside the shipping box or the box should be filled with bubble wrap or some other packing material.
If you are shipping Priority Mail then fold the envelope and slip it into the Small Flat Rate Priority Mail Box.

Here is a picture of a Small Flat Rate envelope inserted into a Small Flat Rate box. If you have a larger envelope or a padded envelope you will need to fold it more to fit it into the box, but it can be done! Packaging things in this way will make it very firm when the box is closed and it will not rattle around and run the risk of damage or making noise to attract unwanted attention.
Once the envelope has been inserted into the box seal the box, placing the mailing label (or write our address) on the front and tape over the address area and seal all the seams of the box with clear packing tape. If you are shipping a less expensive gem via Priority Mail and you have printed the label from the US Postal Service's website you are done and ready to take it to the Post Office!
INSURANCE:
To make things more convenient and less expensive for our US based clients we will cover up to US$2,000 worth of value when you ship back to us using Priority Mail.
Up to $15,000 worth of value when you ship Federal Express Overnight, or UPS Overnight service (not shipped over the weekend)
Up to $15,000 worth if shipped Express Mail
This coverage is valid as long as the packaging is done according to our instructions on this page
and the tracking number is emailed to us immediately at

This covers theft, damage or loss during shipping.
If what you are shipping is over this value limit then we recommend getting insurance from the Post Office or if shipping UPS or Fedex please contact us to arrange the best way to ship with insurance.
When we ship UPS or Fedex we use a special 3rd party insurance provider because the insurance offered directly by Fedex and UPS usually does not cover gemstones and jewelry. If you prefer to ship using Fedex or UPS we can email you a return shipping label using our third party insurance and then reduce the amount of your refund by the amount that return shipping and insurance cost.
If shipping Express or Priority Mail it is a good idea to get the free insurance ($50 for Priority and $100 for Express) that the Post office offers in addition to our in house value coverage, because it might make them take additional care with the package.
CHOOSING A SHIPPING OPTION:
One of the first factors to consider is which is most convenient? Post Office, Fedex or UPS? Usually there will be one or more of these near where you are located.
For US shipments if you want the gem insured often the US Postal Service is the best route to go.
Tip:
To save on shipping costs and also save yourself from having to hand write the labels you can create an account on the US Postal Service's website at
www.usps.com
and pay, create the labels online and print them on your printer. By doing this you will save about 10-15% off the price the postage would normally cost if you went in to your local post office and paid the clerk.
Shipping gems with the US post office your service options are:
Priority Mail
, this is often the cheapest option and offers 2-3 business day service, usually $50 of insurance is provided for free and the package can be insured for up to $5,000. This service includes tracking and for an additional fee will require a signature upon delivery. A "Small Flat Rate Box" available for free at the post office currently costs $6.80 to ship with standard delivery confirmation and about $9 with signature confirmation.
Do NOT
use "Direct Signature" since that would require me to sign for it personally or "Adult Signature" since that costs more and there are only adults where the packages are recieved anyway. If you want additional insurance besides our in house coverage of up to $2,000 for Priority Mail (
see info here
) that will range from $8 for $500 worth of insurance to about $65 for $5,000 worth.
Tip:
Use the Small Flat Rate box so you don't have to worry about the weight.
Priority Mail Express
(this used to be called Express Mail and we will refer to it as "Express") this service is usually overnight if you get it in to the post office before 3pm. Otherwise it might be a 2 day service but it is very reliable and according to a study by a major jewelry insurance company it is the most secure of all shipping options offered by any major carrier. If shipping according to our specifications we cover these inbound shipments for up to US$15,000 IF the tracking number is emailed to us as soon as it is shipped (
see info here
). The Post office also offers insurance up to $5,000 in total value for purchase.
NOTE:
By our calculations Express Mail becomes cheaper than Priority Mail when the insured value passes $2,500. Generally we recommend Express mail if the value of the gems being shipped passes $2,000 because of the greater security and the peace of mind of a fast delivery.
Express Mail pricing for a 2 pound box (most shipments of gems will be under 2 pounds but we are using that figure for pricing calculations) is currently about $37 if purchased at the Post Office and about $30 if you fill out the shipping info and print the label at www.usps.com which is the Post Office's official website. This base rate includes $100 of insurance for free. If you want extra insurance (other than our in house insurance
see info here
) it runs about $2.60 for $500 worth of insurance and $17.45 for $5,000 worth.
You can see that for a larger value of insurance Express becomes cheaper than regular Priority if the insured value is higher since the insurance is cheaper.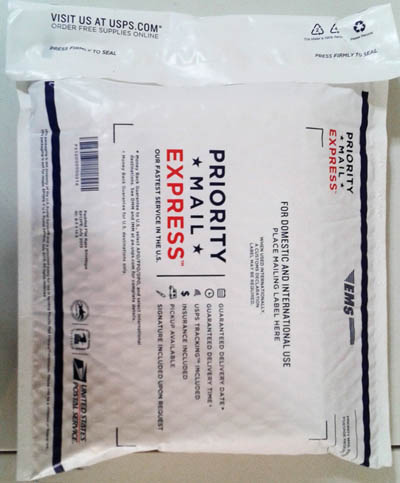 Tips:
You can use the Flat Rate Padded Envelope and place the Small Flat Rate Priority Mail box inside it, packaged as mentioned before. This supplies 3 levels of packaging to protect the gem. (We recommend a label on the outside of each package for maximum security!) Also NEVER ship a gem without at least one box (in this case the Small Flat Rate Priority Mail box inside the envelope) because the rolling equipment the post office uses to process flat mail pieces can sometimes crush gems in envelopes alone. They don't use that equipment on thicker packages like boxes or padded envelopes with a box inside.


If you prefer using a box on the outside it is best NOT to use the Express flat rate box since that will cost significantly more than using a regular (non flat rate) Express Mail box. Boxes are a bit more secure than the padded envelope, so if you don't have a scale but want to ship a non flat rate box using the online label generator just put down 2 pounds as the weight and you can be sure your box will weigh less unless you have put mighty BIG rocks in there!
Registered Mail
is also offered by the US post office. It is a slower service (can take up to 10-14 days depending on distance) but it offers insurance up to $25,000 and the declared value can be higher yet. (They will charge based on the declared value including the amount that is over $5,000 but will only insure to $25,000). It includes tracking but has some restrictions as to packaging materials. The box must be sealed with paper type glued tape (they do NOT accept any kind of standard tape that is sticky without wetting it as they feel this is less secure). Packaging this kind of shipment is a little more of a hassle since you have to use a smallish box and a special kind of tape, also the cost is greater than Priority Mail but can be a bit less than Express Mail. This is a very secure shipping method and provides insurance for a reasonable price, our
"in house" insurance policy
does not cover it though because it is a slow shipping method and we prefer getting our gems back quickly if they must come back.
Federal Express
is a good shipper but their insurance often does not cover loose gemstones and jewelry (read the fine print). Our
"In House"
insurance will cover you for up to US$15,000 in value for their overnight service IF you email us the tracking number as soon as you ship. Never use their ground service, always go Overnight.
If they ask you what is in the box it is better to call gems "minerals" (which they are) as that attracts less attention. Still do not write this on the outside of the box. Double box using their Small and Medium sized boxes with one inside the other following the same instructions above for mailing Priority Mail.
UPS
also offers express service which works fairly well (don't use their ground service for gems), but their insurance often does not cover loose gemstones and jewelry (read the fine print). Our
"In House"
insurance will cover you for up to US$15,000 if sent overnight IF YOU EMAIL US THE TRACKING NUMBER.
If UPS asks you what is in the box when you are shipping it is better to call gems "minerals" (which they are) as they sometimes have restrictions about what they will ship and also it is less likely to make someone want to steal the contents.
Never write "Gems" "Jewelry" or anything like that on the outside of the box! When shipping UPS always double box with their Small and Medium sized boxes. Place one inside the other in a similar way as the instructions above for mailing Priority Mail.
SUMMARY:
Securely wrap each gem individually
Place all gems and your contact info inside box

Package should not make noise
Tape all seams with clear tape
Use at least 2 layers of sealed packaging, at least one of which should be a box.

Place a label on each layer of packaging

Do NOT use gem or jewelry related words on outside of packaging
Ship with tracking

EMAIL US THE TRACKING NUMBER!



Do NOT require "Direct Signature , " just a regular signature is fine.

Hope this has helped you! If you have any questions please email or call us.
John Dyer