Select Retailer: R. W. Wise Goldsmiths
Mr. Wise began his career In the jewelry industry as a goldsmith. His early interest in gemstone connoisseurship led him to travel extensively. He began writing on the subject in 1989. His articles on gemstones have since appeared in Gems & Gemology, Jeweler's Quarterly, Colored Stone and many other publications. As Gemology Columnist for National Jeweler his column Gem-Wise was a popular feature of the magazine. Mr. Wise has been a Contributing Editor with Gemkey Magazine and Gem Market News.
R. W. Wise Goldsmiths takes pride in fashioning each of their jewelry treasures one at a time, by hand, using techniques that have been passed down from master to apprentice for hundreds of years. They maintain a complete goldsmith's workshop on premises and specialize in custom design.
They have worked with numerous gems cut by John Dyer & Co. including the unique Oregon Sunstone pendant pictured below.
R. W. Wise. provides complete on premises design services from initial sketch to the finished piece. They have an extensive slide catalogue to help in the design process. They fully guarantee their work.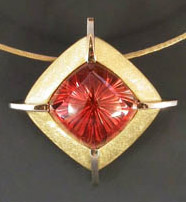 81 Church Street, Lenox, MA 01240
Phone: 413-637-1589
Fax: 413.637.8275
info@rwwise.com
http://www.rwwise.com