Professional Jeweler Article
Published in November 2004
Gemstones/News
Earthly Perfection
Gems cut by John Dyer are worn by women with confident personalities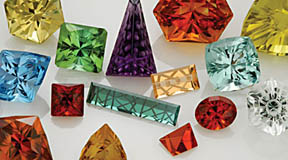 John Dyer has achieved the highest pinnacles of success in gem cutting despite – or perhaps because of – his modest nature. Free of the bounds of arrogance and self-importance, he pursues beauty for beauty's sake. Along the way, he's won multiple American Gem Trade Association Cutting Edge Awards. And the 25-year-old has done it all since embarking on the colored gem path less than a decade ago.
"That kid is so young and so talented," says Gary Dulac of Gary Dulac Goldsmiths, Vero Beach, FL. "When we met at the Tucson Gem and Mineral Shows just a few years ago, I was impressed with the quality of his work and his humble, open personality. He has come to know my needs and invariably recommends a gem that works perfectly with my designs."
Other jewelers share Dulac's enthusiasm. Don Fane, goldsmith for Robert Giede Designs, Menomonie, WI, says Dyer's gems are easy to set because they're perfectly symmetrical and that they're so well polished they look exceptional in jewelry.
Doughnuts to Gemstones
John Dyer grew up traveling the world with his missionary parents. He spent much of his young adulthood in Brazil, where he learned to speak Portuguese and was home-schooled. "We moved many times, so it was more stable for me to receive home education," he says. It also cemented a working relationship with his father, David, now a partner in John's business.
Missionary experiences taught Dyer how to deal with people from all walks of life and also revealed a knack for business. To help his family make ends meet, the young entrepreneur became a street vendor, hawking a totally unknown product in Brazil: doughnuts. "Initially, I had to offer free samples so people could understand the product," he recalls. "Then I started to build up my business." He later sold chicken, sheep and candy.
Despite Brazil's gem riches, Dyer's passion for cutting gems didn't really bloom until he returned to the U.S. years later. A gem dealer allowed* Dyer and his father to sell goods on memo. Colored gems began to fascinate him. "I like beautiful things and bright colors, and here they were!" he says.
Zambian Graduation
Dyer and his father took their first gem-buying trip to Zambia for emeralds. He noticed prices for cut goods were often higher there than in the U.S. because gem rough was exported, cut elsewhere then returned to Zambia for sale to unknowing tourists. Instead of buying cut emeralds, the Dyers bought rough and then sought cutters when they returned to the U.S. "One person demanded $300 a pop for cutting our rough and then did a really poor job*, and I got mad," he says. "I can do that and save us the costs."
The first years were arduous and filled with costly learning opportunities. "We didn't break even from that first Zambia trip until seven years later," he says.
Dyer first used garnets, much less expensive than emeralds, and his first faceting machine was an Ultra Tech, which remains his favorite because he says it maintains its cutting angles in the cutting process. "I also read a lot of books about gemstones and cutting," he says.
He now knows how to buy the best crystals. "I learned not to go for overly dark and saturated material, to avoid inclusions and to use light to understand the integrity of the crystal," he says.
He also learned about merchandising. "Our best customers are independent jewelers who love color and who design and make their own jewelry on the premises," he says. "We also sell to collectors and dealers who sell to collectors." In addition, he sends an annual catalog to retailers, filled with pictures he took himself as a skilled gem photographer.
Does he have trouble parting with his works of art? "If I sell it, I can create something new," he says.
Billboard Factor
"We like to tell retailers that anything under 5 carats should be considered melee," he says, joking. "I like big gemstones because, if displayed properly in a store, they are like billboards. Consumers look, stop and are fascinated. They want to know more. This is an advantage for jewelers because it helps them stand apart. No one else has it!"
Dyer says jewelers should nurture a love for colored gems in their customers. "You may not have this customer today," he tells retailers who say consumers don't buy large* color. "But you won't have the customer tomorrow either unless you commit to color. You must cultivate the market."
Dyer says the typical customer for his creations is a woman, generally over 40 and confident enough to buy larger gems. "She wants to express her individuality and good taste," he says. This type of customer seems drawn to Dyer's clean, conventional use of gem material, though he increasingly creates unique optical feats as well. "It is a travesty to see poorly cut stones," he says. "Rough has the potential to become so many things – successful cutting is when you fulfill that potential. In gems we find such small and compact beauty, such small and vibrant color. A gem is about the closest thing to perfection we have in this world."
– by Robert Weldon, G.G. –
(The * is to show where small factual corrections were made to the article)