Ways We Help You Sell Our Gems
As well as supplying you with first rate, unique gemstones we provide you with the means to help you re-sell our gems in your own creative jewelry pieces. Read more...



THE IMPORTANCE OF GOOD GEMSTONE CUTTING

How a gemstone looks is all-important. Many gemstones only sparkle around the outside with a kind of dead spot in the middle. This is known as a "windowed" or "fish eye" gemstone.
Read more...
Good cutting requires experience, creativity and modern machinery. We at
John Dyer & Company
employ the latest technology to bring you a superior gem.
Read more...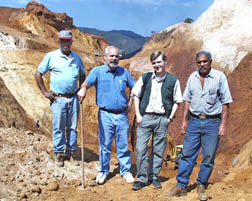 We travel widely, to Asia, Africa, South America and other locations to find good values on rough materials.
Read more...
You may be able to find some of the same materials we offer at cheaper prices. But do remember to check the quality. We are convinced that we can offer our customers the best quality and value on any gemstone in our inventory. See our online catalog and soon you will be convinced also.